Graffiti art has become a popular trend throughout New York within the last decade or so. The graffiti movement seemed to have taken its home in New York during the 1970's and the 1980's. It rooted into New York more than anywhere else and seemed to have spawned a new American Art form, graffiti art.
Graffiti art now lines many of the streets in the boroughs of New York. This form of art not only includes painted images but also Lego parts, wheat-paste pieces of paper, tile and knitted yarn.  Some of the art is older while some is brand spanking new. These works of art can be seen throughout the city day or night, with no admission charge.
Five Pointz
Five Pointz is located in Long Island City, Queens at 45-46 Davis Street, right off Jackson Avenue. This enormous outside art gallery is situated just a block from MoMA PS1, one of the largest contemporary art institutions in the United States. It is a collection of old warehouses that depict more than 600 works of art. Graffiti arts from all five boroughs of New York (hence the name) as well as all over the world have created their works of art here.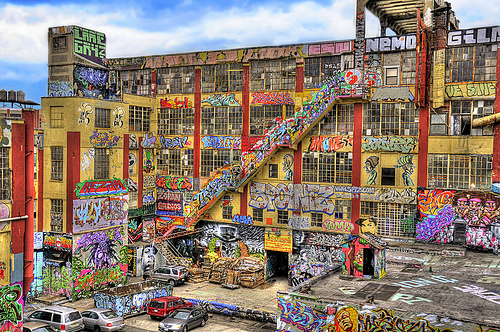 The Graffiti Hall of Fame
The Graffiti Hall of Fame is found inside the school yard at the Jackie Robinson Educational Complex, located in East Harlem at Park Avenue and 106th Street. During the school year, the area is not opened during the week. This Hall of Fame is one of the most popular tributes to the art of graffiti. It has been in existence since 1980 when it was created by Ray Rodriguez, a Harlem community activist. He created the area so that talented and creative artists would have a place to show off their skills.
Love Letter to Brooklyn and Train to Always
The Love Letter to Brooklyn and Train to Always exhibit can be found in downtown Brooklyn at Hoyt Street and 119 Livingston Street. The artist Steve Powers, who used to be called ESPO, a graffiti artist from Philadelphia. The Love Letter to Brooklyn was created in 2011 and are text murals on the side of a parking garage. The murals are all comical in nature including "Onward and Upward", "I am made to leave I am made to return" and "Euphoria Is You for Me". The Train to Always project is on the side of a deli at 119 Livingston Street and created a type of New York Subway map with stops such as Yes and Always and No Way.
Hunts Point Murals
Hunts Point Murals can be found in the Bronx, south of Spofford avenue at Drake Street. It is a bit out of the way and not many cars around but it is definitely a sight worth seeing. The Hunts Point Murals are overseen by a group of veteran artists known as TATS Cru. They were commissioned by a warehouse owner on Drake Street to find some talented graffiti artists. The result is an area of some of the most high quality murals around. The murals stretch over 200 feet in length.