If you have never heard of Bettie Page, she achieved leaps and bounds as a pinup girl of the 1950's. She posed for Playboy in 1955 and made waves in 1957 when she released a series of bondage photos.
Biography
Betty Mae Page was born in Nashville, Tennessee in 1923. She was one of six children born to her parents, Walter Page and Edna Pirtle. Her parents divorced when she was young and she would later accuse her father of molesting her; he would later end up in prison. During her teenage years, she loved mimicking her favorite movie stars by doing her hair and makeup as they did. She also became great at sewing which came in handy later on when she would make her own pinup costumes. She graduated high school in 1940 and college in 1944 with a bachelor's degree in Arts. She married her high school sweetheart in 1943 but divorced four years later.
Modeling
Page's modeling career started in 1950 when she met a law enforcement officer who was also a photographer. He is the one who put together her first modeling portfolio. This portfolio led to her first modeling job in the erotic photography industry. Within a year, her photo was plastered on the pages of many men's magazines.
Bettie Page was made famous by becoming the first famous model of bondage.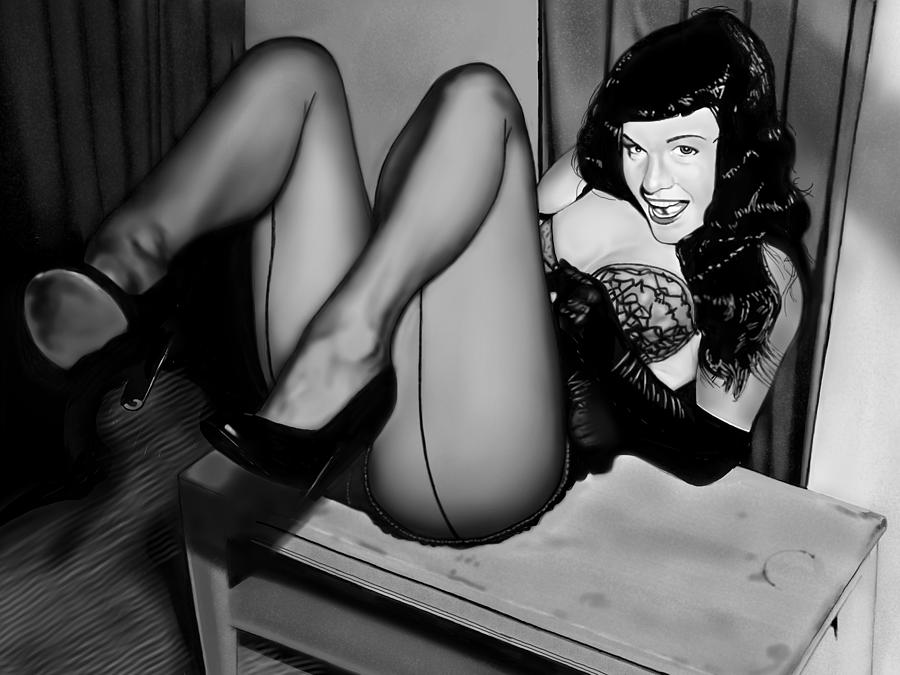 Hidden Years
In the latter part of the 1950's, Bettie found herself front and center with the bondage photos when she was part of the Kefauver Hearings on obscenity. This has been said is what led to her career retirement. Other accounts state that she retrieved from the spotlight because she converted to born-again Christianity.
She married again in 1958, only to divorce five years later and then married her third husband in 1967 but that ended in divorce in 1972.
During her time out of the spotlight, she tried to become a Christian missionary but was denied because of the fact she was divorced. She would eventually work full time for Rev. Billy Graham.
Comeback
She made a huge comeback during the 1980's and 1990's. While she was broke and penniless, but she never let that get her down. She was diagnosed with acute schizophrenia and suffered a nervous breakdown. She spent a few years in state mental hospitals. She eventually got back on her feet after hiring the right management company. In 2014, Forbes magazine listed her estate at being worth $10 million.
Death
Bettie Page died in December of 2008. Some media outlets claimed she died of pneumonia while other outlets stated she had a heart attack. Page is buried at Westwood Village Memorial Park Cemetery where her headstone lists her name alongside the quote "Queen of Pin-ups".
Pop Culture References
Bettie Page has been referenced to a number of times over the years. In Beyonce's music videos "Video Phone" and "Why Don't You Love Me" she pays homage to the pinup queen. In the movie "Death Proof" by Quentin Tarantino, Rosario Dawson's character has the same trademark hair style that made Page famous.