The Electric Forest Music Festival lasts for four days and is a multi-genre music event. However, it primarily focuses on the genres of jam bands and electronic. The fun-filled festival is held at the Double JJ Resort located in Rothbury, MI. Electric Forest made its debut in 2011 and was the creation of Insomniac Events and Madison House Presents.
Introduction to the Electric Forest
This music festival was first called the Rothbury Festival in its 2008 inception, until 2011 when it emerged as the Electric Forest Music Festival. This musical extravaganza is a psychedelic experience at its best. It is held in the midst of Sherwood Forest in Rothbury, Michigan. This music festival is one of the most unique events around, specializing in jam bands and electronic music. The festival has seen such favorite acts as Empire of the Sun, Pretty Lights and Passion Pits throughout its years of existence.
The festival is spread out over 4 consecutive days of fun and nonstop music to create an experience of ultimate ambiance. The forest setting is the perfect background for bright lights and serene nights. It is the ideal spot to relax in one of the many hammocks that are set up for music goers.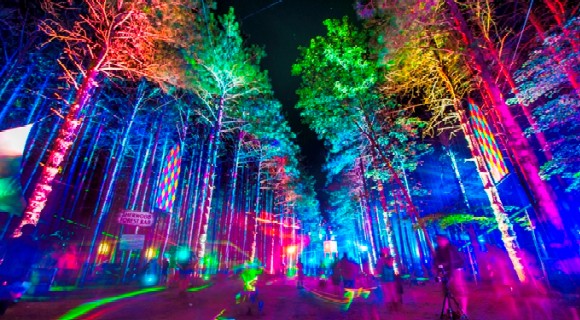 Rothbury, Michigan Area
Rothbury is a small village that is located in Grant Township, Oceana County. There are only a little over 430 residents of the village, according to the United States Census of 2010.
Double JJ Resort
The Double JJ Resort is located in the heart of Rothbury and is home to the Electric Forest Music Festival. The resort has been in existence since 1937 when it was called Jack and Jill Ranch. There are nine restaurants on the resort grounds along with a conference center, indoor water park and golf course. The resort is spread out over 1,000 acres that also have three large lakes which are situated around the property.
Past Lineups
The music festival actually began in 2008 when it was called the Rothbury Music Festival. There was no festival held in 2010, though it started up again in 2011 as the Electric Forest Music Festival. In 2008, the lineup included great acts such as John Mayer, Colbie Caillat, Snoop Dogg, Widespread Panic, Railroad Earth and The Black Keys. 2009 saw killer musical acts such as Grace Potter and the Nocturnals, Bob Dylan, Rebelution, Girl Talk, Future Rock and Damian Marley with Nas. The lineup of 2011 included 12th Planet, Van Ghost, Keller Williams, Chiddy Bang, Porter Robinson and Pretty Lights while 2012 saw acts like Big Gigantic, Ghostland Observatory, The String Cheese Incident and Major Lazer. Last year great musical guests included Kill the Noise, Just Blaze, Craze, Motion Potion and Party Supplies.
2016 Lineup
The 2016 Electric Forest Music Festival will take place from June 23th to June 26th and the acts scheduled to perform can be found on their website.